About
Founded on compassion
for community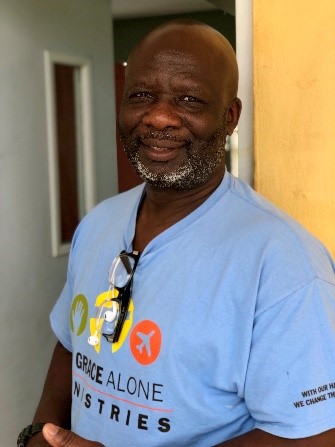 Jean Pierre "JP" Sangai, a native of the Democratic Republic of Congo in Africa, has spent over 20 years leading mission trips in the Dominican Republic and around the world. Growing up, JP's father, a Presbyterian Pastor, regularly welcomed missionaries in his community to serve and share the gospel. JP cherished the time he spent with the missionaries and, from a young age, recognized the impact they had on people's lives.
JP traveled to the United States in 1983 to pursue a degree in higher education with the hopes of becoming a doctor. He attended Montreat-Anderson College and then transferred to Covenant College to complete his undergraduate studies in Biology and Chemistry with a pre-med focus. While he dreamed of one day returning to the Congo to serve his community, circumstances of wars and political instabilities did not allow him to return.
JP ultimately decided not to pursue a medical degree. Instead, he used his passion for science to teach middle and high school students in North and South Carolina before transitioning to corporate America where he was employed as a Pharmaceutical Sales Representative for a Fortune 500 Company. In early 2008, JP was released from his corporate position, allowing him to pursue his deep-rooted passion for full-time mission work. Shortly after, By Grace Alone Ministries was formed.
JP now splits his time between Charlotte, NC and Santo Domingo, DR spreading the love and grace of Jesus. When he finally finds time to relax, JP enjoys spending time with his wife Donna, walking his 2 dogs Lily and Rosie, catching up with friends, and spending time at his home church.
"My favorite part of By Grace Alone Ministries is spending time learning, observing, and understanding different cultures around the world so that I can better communicate, serve and share the love and grace of Jesus Christ with those I meet."
JP believes fully in a holistic community development model where residents have their physical, emotional, and spiritual needs met. His vision is to see the world changed for Christ one person at a time.
For more than 16 years, JP prayed for God's provision of a place in this beautiful adopted nation of Dominican Republic. God answered with a tremendous blessing of land to fulfill the greater needs of the people and vision – for a place to train lay leaders and church planters in the Caribbean, Latin America and beyond; a place where teams from North America and beyond can meet for holistic cross-cultural experiences – participating in medical, construction, sports, education, micro finance, orphan care, discipleship and evangelistic mission trips.
Today, the ministry has transitioned to full-time community development in the Dominican Republic. Our US-based mission teams are vital to the work we do in building strong, biblical communities in Santo Domingo. BGA is recognized as a 501-3c non-profit organization in the United States and a fully operating Christian NGO in the Dominican Republic.
BGA Vision
A world where everyone will experience the love and grace of Jesus Christ.
BOARD MEMBERS
UNITED STATES
James Doyle – Anesthesiologist (Medical Director)
Jennifer Garren – Engineer
Julie Holler – Community Volunteer
Linda Miller – Oncology Nurse
Sarah Reynolds – Pediatrician
Ashley Smith – Professional Relations Manager
DOMINICAN REPUBLIC
Birmania Sanchez Camacho – Lawyer
Eduardo Ogando Sanchez – Business Owner
Linda Miller – Oncology Nurse
Jennifer Garren – Engineer
DOMINICAN REPUBLIC STAFF
Bible Education Coordinator
Sports Ministries Coordinator
Dominican Medical Director
Dr. Rafael Oscar Almonte Ayaka
Fuente de Vida Property Managers
Santo Alberto De La Rosa
Alfredo Jenet Pierre
English As Second Language (ESL)
Architect
Jose Lisandri De Jesus Acosta Rodriguez